A new school year is about to begin, with most Toronto families choosing in person learning, according to the latest updates from the Toronto District School Board. With the most unusual school year in a generation now behind us, we decided to look at rental rates that Toronto neighbourhoods with top rated public schools command.
At Hausworth.com, we use open data available from various federal, provincial, and municipal sources complemented by crowdsourced data that our visitors share with each other.
Recently, we kicked off a rental survey to augment the data available from rental listing sites and get a better picture of the current rates in various areas of Toronto.
We will utilize some of the information gathered so far alongside open data on academic school performance available from EQAO and Ministry of Education of Ontario for schools that are part of the Toronto District School Board (TDSB), Toronto Catholic District School Board, French first language Conseil scolaire Viamonde, and Conseil scolaire catholique MonAvenir.
You can find more detailed information about schools in each of Toronto's 140 neighbourhoods, including academic achievements as well as on the state of school buildings and facilities (based on the so called FCI index), on Hausworth.com.
When you visit individual profiles of schools in your neighbourhood on the site, you can also find additional details of enrollment, including stats for gifted and special education students at each school, age of school buildings, number of Covid cases reported during the 2020-21 school year, comparison with nearby schools, and more.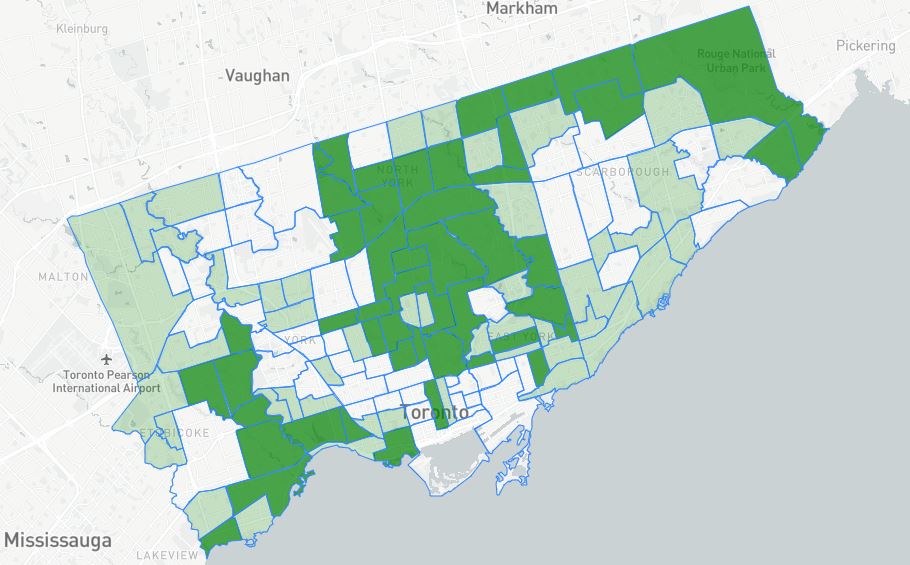 The graphics above provides a high-level view of how neighbourhoods across Toronto compare based on the ratings of local schools.
You may think of these as three large clusters: one in the south part of Etobicoke, another one in midtown Toronto extending into central North York, and the third one – along the north-eastern boundary of Toronto adjacent to Markham.
For the top 10 neighbourhoods based on local school quality (including both elementary and secondary public schools), we added the average rental rate gathered in our system for 1 and 2 bedroom rentals in the neighbourhood:
| | | |
| --- | --- | --- |
| Neighbourhood | Avg school rating | 1-2 bdr apt/condo rental |
| Rosedale-Moore Park | 93% | $2,300 |
| Lawrence Park North | 89% | $2,475 |
| Yonge-St.Clair | 87% | $2,050 |
| Leaside-Bennington | 87% | $2,000 |
| Edenbridge-Humber Valley | 87% | $1,950 |
| Forest Hill South | 85% | $1,850 |
| Princess-Rosethorn | 85% | $1,800 |
| High Park-Swansea | 83% | $2,350 |
| Kingsway South | 83% | $2,100 |
| Bayview Village | 83% | $1,950 |
As you can see, rental rates vary across the city, and while we have to keep in mind that numbers above represent only an average of wide ranges depending on the quality of condominiums and rental apartments in each area, the main takeaway for readers is that it's possible to find reasonably priced rentals in neighbourhoods with the very best public schools in the city.
As far as the methodology for ranking schools goes, we take into account provincial assessment results for Grades 3 and 6 for elementary schools, and for secondary schools – EQAO Grade 9 Assessment of mathematics as well as the latest available results for Ontario Secondary School Literacy Test. Each school is graded based on these criteria, and then the results for the schools located in each of the 140 neighbourhoods are averaged.
If we focus solely on elementary schools, we will find that the following 5 neighbourhoods, as we describe in more details in our blog, host 11 of the top 20 elementary schools in the city:
Hillcrest Village
Stonegate-Queensway
Princess-Rosethorn
Rosedale-Moore Park
Willowdale East
As an example, Hillcrest Village hosts 3 of the top 20 elementary schools in the city:
Ecole Elementaire Paul-Demers
Hillmount Public School, and
Arbor Glen Public School
You can find more details about each of the neighbourhoods we mentioned on HausWorth.com, your source of information about the best areas to live in Toronto. You will also be able to compare overall neighbourhood standings based on additional criteria, such as safety, immigration, demand for houses etc, as well as see resident profiles for neighbourhoods and city blocks. 
FreshHive.ca was not involved in the creation of this content. Information contained on this page is provided by an independent third-party content provider. FreshHive.ca makes no warranties or representations in connection therewith.