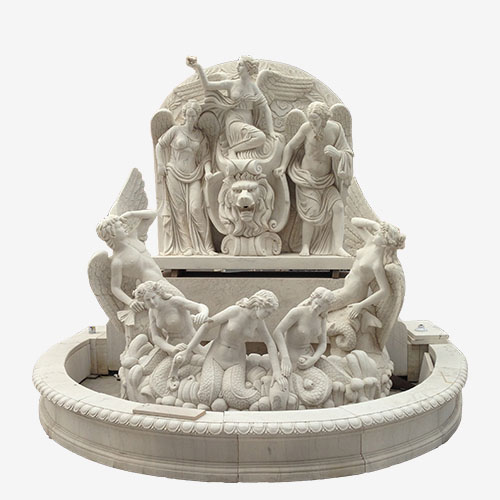 Adding a water feature will surely improve the ambiance of your garden but it is crucial to choose a yard fountain to complement it, as well as any water element, to bring out the best of your yard. Make sure you take into account the design and materials of the yard fountains, as these components affect not only the overall appearance of the space but also the weight and endurance of the fountain.
Best building materials for yard fountains:
Granite
Granite is the only hardest material after diamond. The martial does not have any porous on its surface that traps water. Stones with porous like cast stones can cause the fountain to crack and crumble as the water freezes and thaws. So, you can say granite is the best material to choose for fountains while it comes to durability and longevity. However, it comes in very limited color choices like grey, black, blue, golden yellow and white. You can enjoy the beauty of a granite fountain for decades or more because they don't need to be covered up in the winter, and harsh weather conditions do not damage it. Granite is also easy to care for. You can use diluted acid solutions to effortlessly clean up algae stains and hard water deposits on your granite fountain without damaging it. A granite fountain is sure to stay in pristine condition for generations.
Marble
Marble is one of the most enduring natural stone materials, and perfect candidate for fountains. Marble outdoor fountain are the greatest to be installed to enhance the attractiveness of a garden. They are highly demanded these days and can offer the best benefits for increasing appearance. You could feel peaceful when you view your garden or backyard plantation. However, without a marble yard fountain, your garden will be incomplete. Maybe you couldn't realize it in beginning, but after a variety of plants have been tried, you know that it's not a plantation that is lacking, but it is something completely different that you need. For several reasons, the Marble yard fountains can enhance the complete landscape design and your yard.
Cast Stone
The cast stone yard fountains are sturdy and adaptable as they last for a long time. These are of hardened concrete molded to resemble natural stone appearance and touch. Gardens that look like a forest, influenced by traditional Asian designs are the best addition to cast stone yard fountains. The natural appearance of the fountain increases the garden ambience, allowing people to feel as though they are deep into the forest, even while they truly are only a few feet away from home comfort.
Ceramic
Small gardens can be space-limited, yet still, have enough area for a small water fountain. Ceramic fountains are in all sizes, and the beauty of any green space can undoubtedly be improved. This kind of yard fountain is autonomous and may be installed in any safe area, such as a deck or a courtyard. Ceramic yard fountains help to provide a private place for relaxation, unlike cast stone springs that inspire a woodland image of losing themselves. The majority of ceramic springs are composed of terracotta or ceramic glazing.
What are the reasons to consider Marble Fountain for your yard?
Here are a few things to consider if you are thinking about adding one to your outdoor living area:
Peaceful Pour
You might feel a sense of tranquility at beauty when you enter your garden. Marble yard fountains create not only a wonderful environment, but also, it's advantageous for emotional and mental healing. Universally peaceful and soothing is the sound of water. Fountains of marble produce beauty, but they give you a pleasant, peaceful sound of water.
Improved Value
The value of your home is increased with marble yard fountains. Marble fountains help improve the appeal and promote great family time as well. You are likely to spend more time in your yard with a yard fountain that will calm and relax the atmosphere, whether it is during the day or a family reunion or a party. Marble fountains captivate people because of their beautiful and relaxing sounds.
Durability
You don't have to discard it once you have a marble yard fountain that you love. Marble is one of the longest-lasting natural stones available, and the good news is even with steady water flow, it will not fade or turn rusty. For many years, your marble fountain will be a special and unique feature outside your home so that you and the next generations can enjoy all the advantages offered by a marble yard fountain.
Look at your yard and take special note of the available space in it, the climate condition, and then choose the best material for your yard fountain.
There is another beautiful feature in the yard if you like to choose natural stone material, that is yard stone bathtub. You could choose river rock stone or granite bathtub as a yard bathtub. Combine a yard fountain and a yard bathtub, there would be no retreat spa compare to your own backyard. Here you could find more modern stone bathtub for contemporary yard design.
FreshHive.ca was not involved in the creation of this content. Information contained on this page is provided by an independent third-party content provider. FreshHive.ca makes no warranties or representations in connection therewith.