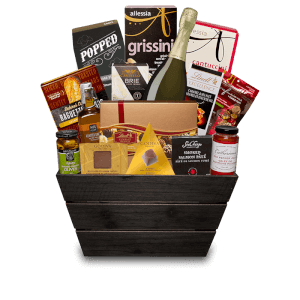 Holidays are generally the only popular time for corporate gift-giving. And Christmas 2020 is here. The most awaited holiday when people give gifts to their families and friends. It's the season for chocolates and gourmet items. Searching for Christmas gifts or Christmas gift baskets is so challenging. But now kick your stress out and check out Nutcracker Sweet. Nutcracker Sweet provides you with the best gifts for your friends and family. Choosing a perfect gift basket isn't easy, but we are here to help you choose a great present.
1. Sint-Niklaas:
An elegant gift basket that truly excites chocolate lovers. A red oval metal basket filled with Lindt Tablet 70% Dark Chocolate Bar, Cookie It Up Chocolate Shortbread Cookies, White Chocolate Mini Pretzels, Lindor Assorted Chocolates, Assorted Cookies, Candy Cane Shortbread, Ghirardelli Peppermint Bark Squares, Dark Chocolate Marshmallow Stir Stick, Maple Cream Filled Milk Chocolates, and many more. This is a breathtaking basket for $150. We've enriched this basket with luxuriously rich chocolates.
2. Winter Wonderland:
Send a big warm hug to your dear ones with this Holiday Gift Basket for $115. Packed with tempting treats like Lindt Tablet Milk Chocolate Bar, Lindor 70% Dark Truffles, Oublies Rolled Wafer Cookies, Dark Chocolate Peppermint Bark, Cookie It Up Salted Caramel Crunch Cookies, White Chocolate Mini Pretzels, Gingerbread, and much more. This basket is full of sweet and delighted chocolates. Then what are you waiting for? Order this beautiful basket for your friends and make their Christmas bright!
3. Holiday Cheer:
Spread Holiday Cheer with this adorable Christmas gift basket. Overflowing with memorable treats like Russell Stover Milk Chocolate Caramel Santa, Lindt Milk Chocolates, Milk Chocolate Jumbo Pretzel, Gingerbread House Cookie, and much more for only $50. This sophisticated arrangement makes a beautiful gift. This holiday basket makes the perfect gift for anyone on your list. Make your loved one's day, and their holiday with this stunning holiday-themed gift tower. They will love the beautiful presentation.
4. Holiday Tower:
This beautiful gift is the perfect way to make this Christmas bright! Our Holiday Tower is easy to send holiday cheer. Inside four festive blue gift box layers, you will find Godiva jumbo Milk Chocolate covered Pretzel, Walker Shortbread, Dark Chocolate Sponge Toffee, Triple Treat Cranberries, Yogurt raspberry Pretzels, maple & Sea Salt Caramel Corn, and many more. This amazing Holiday Tower only costs $75. Bright up their day with this festive Holiday Tower.
5. Christmas Spirit:
Nothing says classic elegance quite like this Christmas Spirit which is perfect for a Christmas gift. We have filled this medium-sized oval basket with decadent sweet treats like Godiva Dark Chocolate Vanilla Ganache G Cube Triangle, Lindt Tablet Milk Chocolate Bar, Walkers Mini Shortbread Cookies, Assorted Cookies, Gingerbread Santa Cookie, and many more. This Christmas Gift costs only $85.
6. Tinsel Tower:
Ring the bells with the Christmas present that will delight any gift recipient. We have brought this three-tiered tower packed with Caffe Latte Almonds, Non-Perils, Milk Chocolate Caramels Bites, White Yogurt Mini Pretzels, and many more. This Tinsel Tower costs $40. Impress anyone with this Holiday Tinsel Tower. This beautiful gift is one that's impossible not to enjoy.
7. 12 Days Of Christmas:
What is a better gift to express your love this Christmas? Our '12 Days Of Christmas' will help you. Grab this memorable gift for someone special. They will find a surprise treat in each of the twelve days compartment in this luxe keepsake box. They will surely open all 12 days at once to savour each surprise bite. Inside is a world of delicious chocolates and chews. It only costs $40.
We have got amazing gift baskets for Christmas Holidays just for you. So buy your desired basket from Nutcracker sweet and show some love to your friends and family this Christmas.
FreshHive.ca was not involved in the creation of this content. Information contained on this page is provided by an independent third-party content provider. FreshHive.ca makes no warranties or representations in connection therewith.